Cholamandal Artist Village
An unassuming introduction to local art, the Cholamandal Village is a serene set-up, displaying works of upcoming and established artists, painters and sculptors from South India. It was built in 1966 and is nine kilometers from the city. The village houses an art gallery, museum and an amphitheater for theater performances. This is a residential village for the artists, so a polite reserve is appreciated.
Dakshinachitra
(Open between 1000 hrs and 1700 hrs. Closed on Tuesday. Approx. Entry fee – Indians Rs. 75/- & Foreigners Rs. 170/-) A venture of Deborah Thiagarajan and her associates from the Madras Craft Foundation. Dakshinachitra is an amazing place to visit, as various kinds of traditional houses have been transported to Chennai from interior parts of Tamil Nadu, Andhra Pradesh and Kerala and rebuilt here piece by piece.
Muttukadu Boating
A wonderful picnic spot. The effect caused by the rocking bridge over backwaters is stunning and exciting. It's an out of the world for people who are connoisseurs of seafood. It's about 30 km from Chennai on East Coast road, which leads to Mammalapuram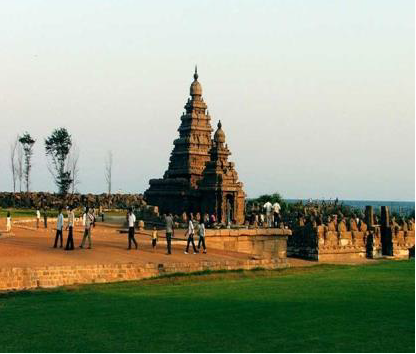 Mahabalipuram
Mahabalipuram lies on the Coromandel Coast which faces the Bay of Bengal. This is an elegant place to watch which a well established sea port was during the 7th and 10th centuries of the Pallava dynasty. This was the second capital of the Pallavas who ruled Kanchipuram. Formerly, mahabalipuram was known and called as Mahabalipuram. The former name of this place 'Mahabalipuram' has a history. A very rude cruel king Mahabali reined this place and in a fierce battle king Mahabali was killed by Lord Vishnu and the place was named after the dead, arrogant kind Mahabali. More details can be obtain from us at any time.