Fulcrum is a professional Conference Management Company based in Chennai with a professional team of people from hospitality industry with enriched experience of more than two decades.
CONFERENCE MANAGEMENT:
Fulcrum provides integrated professional conference management services for holding National as well as International conferences from entry to exit, keeping in mind the cost containment to the organization. The rich hotel background of our team gives a cutting-edge advantage while dealing with hospitality industry.
SPECTRUM OF OUR CONFERENCE MANAGEMENT
We Efficiently & Effectively Manage,
Designing and printing brochure / Venue Management / Interpretation and Translation Services / Media Relations / Special Events (Theme Nights / Gala Dinners / Banquets) / Banners and Signage / Audio Visual Equipments / Delegate Badges & Conference Bags / Delegate Registrations (Online / Offline) / Secretariat Management / Preparation of Delegate Kits / Mailing List Management / Manpower Management / Security Arrangements etc..
In addition we also facilitate Hotel Contracting / Airport Management / Transport Managemnt / Pre & Post Conference Tours / Accompanying Person's Programme / Ticketing / Shuttle service between the venue and the hotels etc.
A dedication to service, uncompromising attention to detail and superior systems and follow up processes are the defining work culture at Fulcrum.
Conference Management By Fulcrum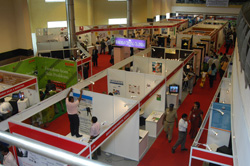 Please Click Here to find more details in the presentation of "FULCRUM CONFERENCE MANAGEMENT" for your better understanding...